Wear & Hear - Hearing enhancement (Israel technology) - + Cash on delivery +
Wear & Hear is a hearing enhancement and active listening product technology from Israel. 
BeHear® NOW is a personalizable Bluetooth stereo headset that provides enhancement for all-around hearing (for phone calls, audio play, and ambient hearing), as well as assistive listening functionality. BeHear NOW can be tuned to address your specific hearing capabilities for all applications, such as voice communication via mobile phone, listening to music, etc.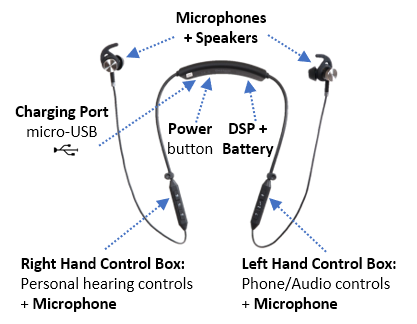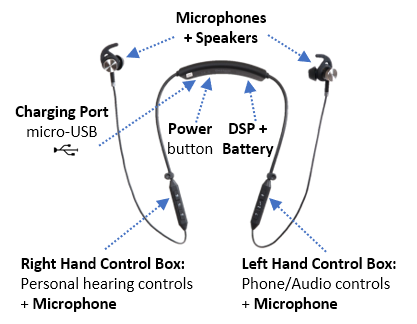 Product Number
ABH-101
Bluetooth
Version 4.2, Class II
HFP 1.6, HSP 1.2, A2DP
Range: 10m
Acoustic Performance
Maximal Sound Pressure Level (OSPL90), HFA: 116 dB SPL
Full-on Gain, HFA: 42 dB
Total Harmonic Distortion (THD):  < 0.7%
Receiver Specifications

Speaker: 13.6 mm receivers
Frequency Response: 20 Hz to 20 kHz

Microphone Specifications

Microphones (four in total):

Ultra low-noise 74 dB SNR ECM (Electret Condenser Microphone) in each earpiece
Low-noise digital 64 dB SNR MEMS in each control box

Frequency Response: 100 Hz to 15 kHz
Battery
Rechargeable single cell Lithium Ion
Charging interface: Micro-USB
Capacity: 250mAh
Software Versions Supported by W&H BeHear App
Android: Version 4.4 and up
iOS: Version 9 and up
Operation Time
Hearing mode: 12+ hours
Talk: 10+ hours
Play: 8+ hours
Standby: 400 hours
Product from Israel
EKOBOR is one of the subsidiaries of EKPAC, which is originated from Sweden over 110 years ago. From EKPAC's experience in the field of healthcare of providing corrective measures to the world, EKOBOR sees the importance of PREVENTIVE measures, which is to enhance the working environment through providing comfortable office chairs and standing desks.
 We concern about your health and working performance. We have been working on SIT-STAND solutions for over 10 years. Our sharp focus & extensive experience in office furniture, makes us an Expert in providing high quality and affordable office ergonomic furniture solutions.
 Working in close collaboration with our partners, such as Martela from Finland, the Nordic leader in interior designs and office ergonomic furniture solutions, we are devoted to advocate the well-established acceptable patterns of work-life balance to the Asia-Pacific region through our full SIT-STAND furniture solutions.
 Sharing by our Founder, Kei Kei Chan
Certified Office Ergonomic Specialists, Certified Chair Assessment Specialists, AASFP Personal Fitness Trainer.
Kei Kei is very passionate about advocating the concept of wellness at work through our high quality and affordable sit-stand solutions.  Posture makes tremendous difference to our health quality. For example, if we constantly work under a slouching position, our lung's functional and oxygenation circulation will be highly affected, which will also increase additional pressure to our internal organs as well.  Pain might not be present immediately therefore we often neglect the negative impact from having poor posture. To Keep this short, EKOBOR really hope to be part of your one-stop shop for healthy and productivity-boosting office furniture. 
Hope to see you personally!!!
About EKPAC Group

Originated from Sweden, Over 110 years of Heritage in China
EKPAC Group is EKOBOR's parent company, originated from Sweden over 110 years ago. We have been importing a great number of famous Swedish brands, such as Alfa Laval, Kone Cranes, Tetra Pak, BOMAG, Renault.  Since 30 years ago, EKPAC has been heavily focusing on developing our healthcare business and we have supplied to over 150 hospitals in China.  Our strength is to commercialize technologies & arrange to finance required. Specific industries include Healthcare, Agriculture, Fire & Rescue, and Clean Technology.  We are constantly looking for great technologies for potential cooperation and investment opportunities.  
Feel free to visit us at www.ekpac.com. 
1. Causeway Bay - Sino Plaza 
Address: Unit03, 28/F, Sino Plaza, 255 Gloucester Road, Causeway Bay, Hong Kong
Route: Causeway Bay MTR Exit C1 (Only 30 seconds walk, where ISA Shop is) 
Opening Hour: 
Monday to Friday: 9am-7:30pm
Saturday: 10am-7pm
Sunday and Public Holiday 10am-7pm
2. Kowloon - Tsim Sha Tsui
Address: K11 Musea, 403A (4/F, near Cinema, opposite to Sunion Shop), Victoria Dockside, 18 Salisbury Road, Tsim Sha Tsui, Kowloon
Route: 
1. Exit E, Tsim Sha Tsui MTR Station, or
2. Exit J1 & J2, East Tsim Sha Tsui MTR Station
Mon - Sun: 11am - 8pm
3. Kowloon - MegaBox 
Address: MegaBox L9-02 (9/F floor, next to ToyRus), Enterprise Square Five 38 Wang Chiu Road, Kowloon Bay
Route: 
Free shuttle bus service is available between MegaBox and Kowloon Bay MTR Station (Exit A, near taxi stand). Service hours are from 9:00 a.m. to 11:59 p.m. daily (the last departure is at 11:39 p.m. from Kowloon Bay MTR Station and the last departure is at 11:59 p.m. from MegaBox). The frequency is around 10 to 15 minutes.
EKOBOR Contact Information
Tel: 2555 5555 / Whatsapp: 5115 9015
Email: info@ekpac.com