Wear & Hear - Hearing enhancement (Israel technology) - + Cash on delivery +
Wear & Hear is a hearing enhancement and active listening product technology from Israel. 
BeHear® NOW is a personalizable Bluetooth stereo headset that provides enhancement for all-around hearing (for phone calls, audio play, and ambient hearing), as well as assistive listening functionality. BeHear NOW can be tuned to address your specific hearing capabilities for all applications, such as voice communication via mobile phone, listening to music, etc.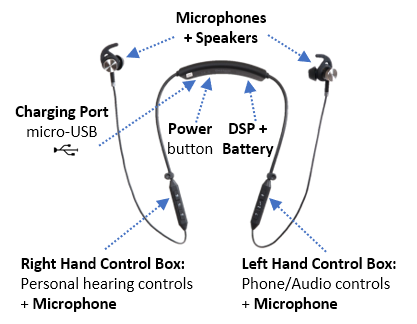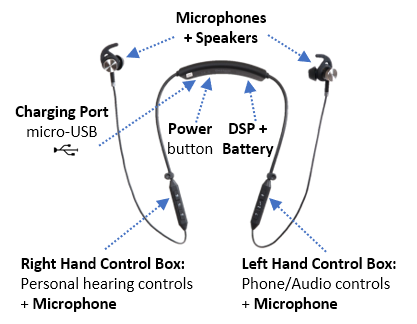 Product Number
ABH-101
Bluetooth
Version 4.2, Class II
HFP 1.6, HSP 1.2, A2DP
Range: 10m
Acoustic Performance
Maximal Sound Pressure Level (OSPL90), HFA: 116 dB SPL
Full-on Gain, HFA: 42 dB
Total Harmonic Distortion (THD):  < 0.7%
Receiver Specifications

Speaker: 13.6 mm receivers
Frequency Response: 20 Hz to 20 kHz

Microphone Specifications

Microphones (four in total):

Ultra low-noise 74 dB SNR ECM (Electret Condenser Microphone) in each earpiece
Low-noise digital 64 dB SNR MEMS in each control box

Frequency Response: 100 Hz to 15 kHz
Battery
Rechargeable single cell Lithium Ion
Charging interface: Micro-USB
Capacity: 250mAh
Software Versions Supported by W&H BeHear App
Android: Version 4.4 and up
iOS: Version 9 and up
Operation Time
Hearing mode: 12+ hours
Talk: 10+ hours
Play: 8+ hours
Standby: 400 hours
Product from Israel